Striping and Curb Painting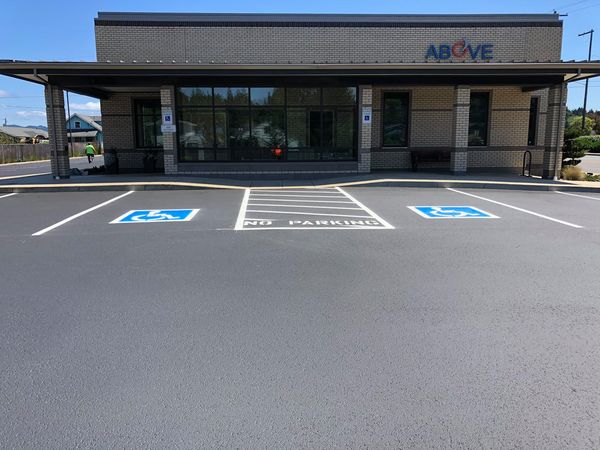 Improve Parking - Accommodate all vehicles from sedans to SUVs
Improve Safety

Decrease Door Dings

Reduce Liability
Boost Curb Appeal

ADA – Accessible Parking per ODOT Standards for all vehicles
Make Your Business Stand Out
Whether you want better curb appeal or improved safety there is no question that appropriately painted curbs and parking stripes are a must. To improve the quality and life of parking stripes, we recommend having your asphalt sealcoated first.
There are several types of traffic paint used in striping jobs. Water based acrylic, epoxy, solvent based, and thermoplastic paints. Each type of paint has its own advantages depending on the environment and climate of the region where it is being applied.
Acrylic is the most environmentally friendly as it is water based. It has excellent durability and high brightness.

Epoxy paints are used in high traffic areas due to their durability. It's two-part compound offers more impact and abrasion resistance. This makes it ideal for concrete parking lots and highways.

Solvent based paint is used in freezing conditions because of its resistance to cold. We don't use solvent based paint and many places in the US have banned the use of it because of its environmental concerns.

Thermoplastic paint is a substance that contains plastic. You'll see it used in arrows, fog lines, and a variety of symbols on highways and major roadways. All thermoplastics are applied by heat, using a special torch that heats the thermoplastic and physically bonds it to the asphalt.
All traffic paints can be reflective at night by adding various types of glass beads to the paint. This can be done by hand for small jobs or by adding the beads to the line striper machine for larger jobs.
Water based paints typically last 2-3 years while epoxy paints can last up to 4 years and thermoplastics even longer. The exact lifespan depends on the climate and how much use the roadway or parking lot gets.
Traffic paints can come in many different colors. The most common colors for parking lots are white and yellow. Although, we can get them in red, green, and blue. The blue is most commonly used in compliance with ADA standards and the red is used to identify fire lanes.
If your asphalt is showing signs of wear and tear, we can perform repairs first!